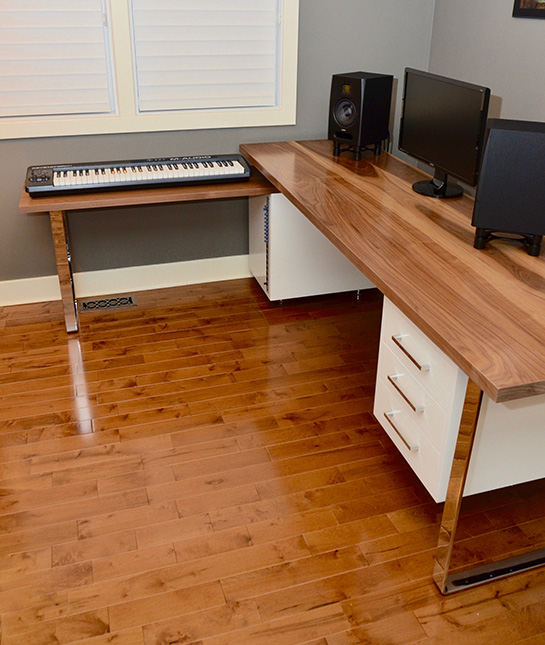 Specifications
Wood Type:
Walnut
Measurements:
87" wide x 26" deep x 30" high. (40" run-off)
Description
This desk is for a musician and sound mixer.  Every element was custom designed to fit the keyboard and computer equipment. Glen worked with the client through every detail.  The tops are solid walnut.  The run-off 'disappears' under the desk top.  The drawer box and cabinet for the computers are coated with glossy white lacquer.  The combinations of colours complement the custom made chromed legs.
The drawers are maple and include hand-cut dovetails on all corners.  One of the drawers contains a power bar for charging phones.  The drawer box 'floats' below the desk for a very unique look.
Thanks to Gary's Custom Cycle in Ottawa for the amazing chrome work.
When I first contacted Glen, I told him about my very specific idea for a music studio desk. He worked diligently and patiently with me during the design process to make sure I was happy before he started building. Glen spent the time and paid attention to every detail: from the selection of the desk top boards, to the curvature of the chrome legs, to the floating drawers with a built-in power bar... all were captured to my exact specifications. Glen has incredible craftsmanship and I couldn't be happier with the desk. It was truly a pleasure to hire him and I'd recommend him to anyone wanting custom work!

Paul V